Events Schedule
PEF at Four Seasons Agility August 2019 Giveback NADAC Trial
Friday, August 23
Saturday, August 24
Sunday, August 25
Akron Animal Hospital- 12638 Main Road, Akron
Come join the Four Seasons Agility Club for their annual giveback trial, big daily basket auction, challenge board and tons of fun!!  Proceeds benefit Pet Emergency Fund.  The ring is a fully chain linked.  Indoor air conditioned crating  available as well as on site camping!  It will be a double-run format with Ron Young as judge.
If you want to participate but don't have a NADAC registration number yet, visit www.nadac.com/register-your-dog.
---
PEF at WNY's Furtastic Pet Adopt-A-Thon
Saturday, September 21 from 10AM-3PM
Pvt. Leonard Post Jr. #6251, 2450 Walden Avenue, Cheektowaga
Come visit the PEF information & merchandise table at WNY's Furtastic Pet Adopt-A-Thon event!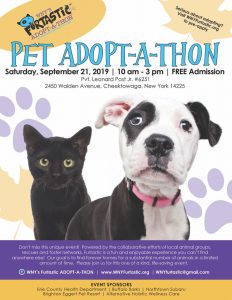 ---
PEF at Erie County SPCA's Paws in the Park


Saturday, September 28 from 8:30AM-2PM
Beaver Island State Park- 2136 West Oakfield Drive, Grand Island
Come join PEF at Erie County SPCA's Paws in the Park, their longest-running fundraiser. The event invites people to come with (or without) their dog for a scenic two-mile walk at Beaver Island State Park. The event will include the opportunity for participants to interact with 50+ pet-related vendors and exhibitors, dog contests, an agility course for the dogs, and fun for children and adults alike. Participants are encouraged to raise pledges that directly benefit the people and animals that the SPCA assists. In return, these participants earn exciting prizes.  Click here for more information.
---
PEF at Niagara Frontier Veterinary Society's Mini-Vet School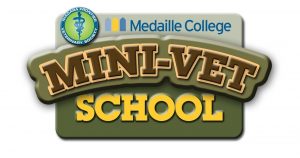 Tuesday, October 1 (Time TBD)
Tuesday, October 8 (Time TBD)
Tuesday, October 15 (Time TBD)
Tuesday, October 22 (Time TBD)
Tuesday, October 29 (Time TBD)
Medaille College- 18 Agassiz Circle, Buffalo
Mini-Vet School is where people and science come together. You will learn about the causes and treatments of the conditions that affect your pets, as well as some of the latest advances in veterinary medicine.
The Mini-Veterinary School is a five-week series of lectures by the most accomplished and dynamic veterinarians in the area.  They will lead you on a fascinating journey of discovery. Each lecture will be a "course" in a subject covered in veterinary school.
Mini-Veterinary School graduates will not be eligible to practice veterinary medicine, but will have a better understanding of their pets' health! They will, however, receive a certificate attesting to the completion of 10 hours of veterinary science.
More information will be forthcoming on cost and how to register.