Events Schedule
PEF at Erie County SPCA's Paws in the Park
Saturday, September 22 from 8:30AM-2PM
Beaver Island State Park- 2136 West Oakfield Drive, Grand Island

Come join PEF at Erie County SPCA's Paws in the Park, their longest-running fundraiser that is celebrating its 25th anniversary this year. The event invites people to come with (or without) their dog for a scenic two-mile walk at Beaver Island State Park. The event will include the opportunity for participants to interact with 50+ pet-related vendors and exhibitors, dog contests, an agility course for the dogs, and fun for children and adults alike. Participants are encouraged to raise pledges that directly benefit the people and animals that the SPCA assists. In return, these participants earn exciting prizes. Click here for more information.
---
PEF at Niagara Frontier Veterinary Society/Medaille College's Mini Vet School 2018
Tuesday, October 2 from 7-9PM
Tuesday, October 9 from 7-9PM
Tuesday, October 16 from 7-9PM
Tuesday, October 23 from 7-9PM
Tuesday, October 30 from 7-9PM
Medaille College Main Building Lecture Hall- 18 Agassiz Circle, Buffalo

Mini-Vet School is a five-week series of lectures by the most accomplished and dynamic veterinarians in the area and is presented by the Niagara Frontier Veterinary Society and hosted by Medaille College in Buffalo, NY. The program is where people and science come together. You will learn about the causes and treatments of the conditions that affect your pets, as well as some of the latest advances in veterinary medicine. Each lecture will be a "course" in a subject covered in veterinary school.
Mini-Vet School graduates will not be eligible to practice veterinary medicine, but will have a better understanding of their pets' health! They will, however, receive a certificate attesting to the completion of 10 hours of veterinary science.
Registration is required. Cost for the 2018 series is $60 per person. Individual dates are $20 (ask about reduced rates for students & seniors). Registration is limited to 250 people. Contact ehudson@medaille.edu to register.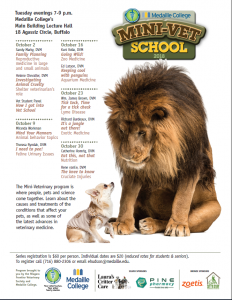 ---
PEF at Lancaster Unleashed's 3rd Annual Woof & Treat
Saturday, October 13 from 11AM-1PM
Village of Lancaster Business District- 5 West Main Street, Lancaster

Trick or treat with your furry friends in the business district of the Village of Lancaster. There will be costume contests for best costume and owner/dog look-alike. Click here for more information and to register.